About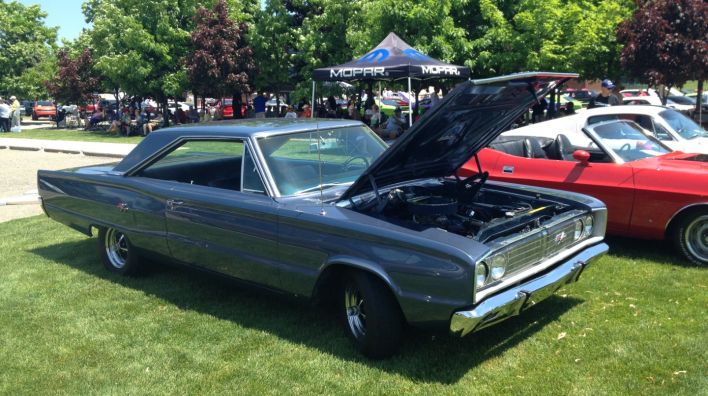 North Oakland Mopar Muscle or NOMM was officially formed in 12/22/1997. One night, Harold Sullivan and Dave Smith thought that there was no real Mopar Muscle Clubs that represented true 1962 through 1974 Mopar Muscle Cars. The big Mopar Club at the time was the Walter P. Chrysler Club (WPC), whose members were getting older and that club had pre-1962 cars in it and therefore did not concentrate on 62-74 cars only. At the time Harold had one of the biggest and finest collections of Hemi and Six Pack cars in the world with multiple Hemi B-Body convertibles and he would go on to own 2 Hemi E-Body convertibles.
"Harold's yellow 4-speed 1970 Hemi Cuda Convertible that came out of Canada, is today universally agreed to be the nicest example of any E-Body convertible since it was fully documented, absolutely rust free, very low mileage and all numbers matching."
Harold and Dave knew it would be nice to have corporate support so they invited Joe Trotta, a Chrysler executive and Andy Agosta, a Chrysler Show and Marketing expert, to join the Board of Directors of NOMM. Andy actually named the club, and it is Andy's Orange Challenger TA that is depicted on the Club logo. In the very beginning, we had around 100 members with Woody Wadsworth being the first member to sign on.
Our first couple of car shows were held at Harold's Warren Community Trade Center, which is located on 10 Mile and near Dequindre in Warren. We quickly outgrew this facility after which Joe and Andy were able to arrange to have our shows held at the Centerline Parts Depot parking lot for many upcoming years. This is the Car Show/Swap meet is that is currently presented at the Packard Proving Grounds, on Van Dyke, near 23 Mile Road every spring. Dave Smith and Joanne Hoover and Woody handled much of the Car Show/Swap Meet duties in the early days, now Marc Rozman has taken over the lead for the Car Show for the past several years with members Terry Talsma and Tony Pikulas taking the lead on the Swapmeet side.
Through Harold's financial connections, we were able to secure the 14 Mile and Woodward Comerica Bank facility to house our annual Woodward Dream Cruise event. Mark Tuck, now deceased, was instrumental in organizing and running another location for the Cruise at the Cemetery in Royal Oak. Afterward, Woody Wadsworth took the lead at the Bank with Dave Smith doing much of the cooking with the help of many other members.
Frank Vivio acquired much of the food to be cooked with his connections in Eastern Market. Shortly thereafter, Deb Goronowicz, and later with help from Beverly Williams, took over the coordination of the pot-luck portion of the lunch. More recently, the Club has had the lunch catered, organized by the Woodward Dream Cruise committee.
Another huge event for the Club was Autorama. Marc Milosevich handled this event with the help of Woody Wadsworth and we consistently sent 6 of the finest Mopar cars in the city to display under the huge banner that Andy had made for us.
Because of events like these, in addition to others, like renting out Milan Dragway for some club events, the club grew to almost 250 members in our hay-day! Eventually, the hobby started to change and the interest in actually driving the cars started to dwindle, as folks got older and the cars became more valuable.
The previous Board unanimously decided to retire in 2014, so a "Reformation Committee" was formed by the Club members. Open elections for the board positions were held.
Marc Rozman (president), John Los (treasurer), Evita Ede (vice president), and Beverly Williams (secretary) were elected to provisional one-year terms, pending approval of new By-Laws.
The office terms under the new By-Laws later approved were revised to two years. Barry Williams succeeded Marc Rozman in 2015, was re-elected in 2017, and then was succeeded by Jeff Yaroch in 2019. The other three officers have been elected three times and continue to serve the Club.
With member commitment like this, we are expecting to experience many more years of Classic car-related event enjoyment!